WHat?
A comfortable, inspiring venue for meetings, workshops, training sessions, presentations, and one on one sessions.
Would you like to book Meet en Suite for another purpose?
Drop us a message!
Inspiration
Inspire your team, department, customers or guests by inviting them in the stylish rooms with high, sculptured ceilings, art pieces, and the original details of the more than century-old house.
How many?
Meet en Suite has a spacious table that can be split into two tables and two spacious rooms which can be separated from one another by a stained glass door. We can accommodate a maximum of 12 people.
Day / Day part
The venue hire fee can be charged per hour, per day or per morning, afternoon or evening. This cost must be settled prior to the event.
Of course it is possible to rent multiple days as well. Have a look at the time schedule.
TOOLS
✓Beamer + Speakers
✓ Wifi
✓ Printer
✓ Creative toolkit with flip-overs, post-its, papers and markers
✓ Ping pong table facilities
CATERING
All day long we offer coffee, cappuccino, tea, fresh (mint)water and light snacks. Would you like to have lunch, drinks, sweets or anything alike? We can arrange it for you. Don't hesitate to contact us for the options. Have a look at our catering page.
EXTRAS
In between work you can have a look in our collection of art books, take a break on the quiet balcony, play the ping pong table, play the piano or take a walk in the neighboring Vondelpark.
Special wishes?
Would you like to book a host for the full day? Do you need the room to be arranged in a specific manner? Do you need extra facilities? Let us know in the booking form or in a message.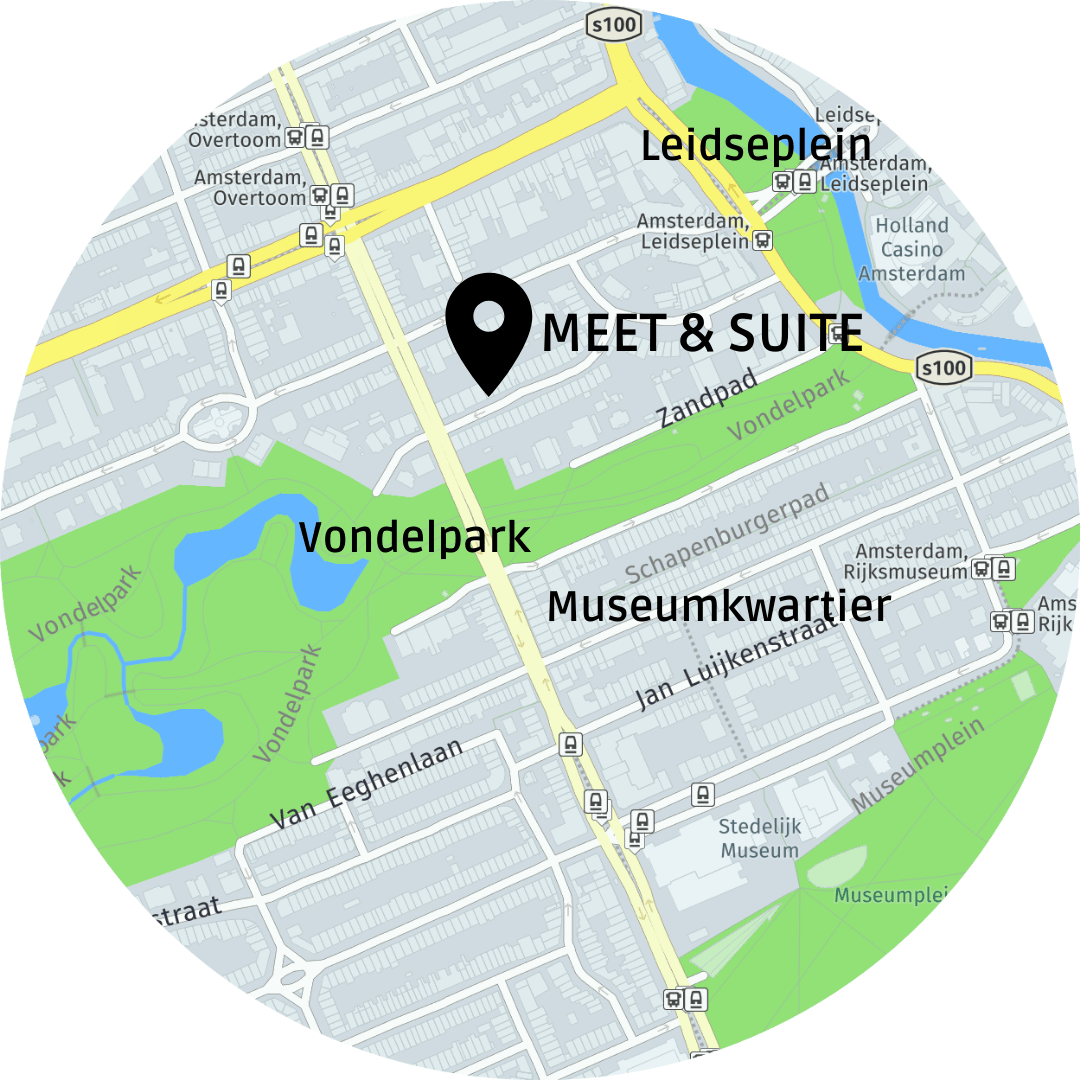 Meet en Suite is located on the ground floor of a typical Amsterdam-style building. It is located in a beautiful and central location: a quiet, monumental street between Leidseplein and Vondelpark.